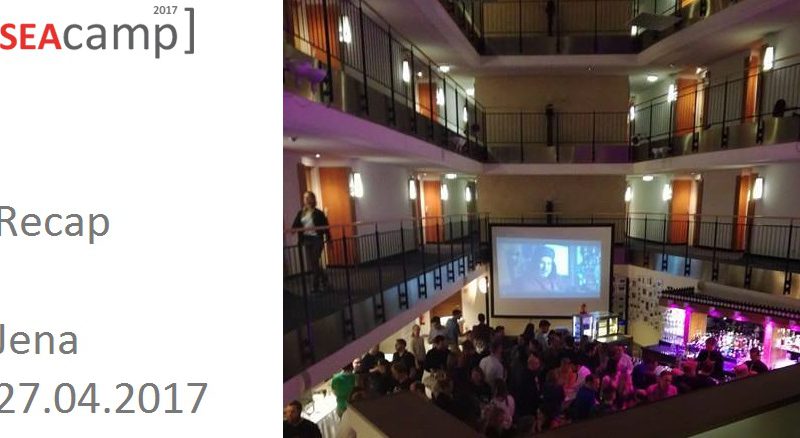 Am 27.04.2017 waren wir zum dritten Mal in Folge auf dem SEA Camp in Jena und konnten wie auch in den Jahren zuvor, in familiärer Atmosphäre neue Eindrücke & coole Ideen sammeln.
Hier eine kurze Zusammenfassung der Sessions, die wir besucht haben:
"Mission: 100%ige Abdeckung aller Suchanfragen Ihrer potentiellen Kunden" (Oliver Greifenstein)
Oliver hat in seiner Session gezeigt, wie er möglichst effizient die Auswertung der Suchanfragen sowohl von Search als auch von Google Shopping Anzeigen teilautomatisiert durchführt. Hierzu setzt er Scripts ein, die einzelne Suchanfragen bewerten und dann in ein Google-Spreadsheet übergeben. Nach einer manuellen Qualitätssicherung der Daten werden automatisiert Anzeigengruppen und Anzeigen erstellt. Dies hilft dabei, dass alle relevanten Suchanfragen auch als Keywords im Konto hinterlegt sind und somit eine möglichst große Abdeckung bei allen relevanten Suchanfragen erfolgt. Eine interessante Zahl, die wir außerdem mitnehmen konnten war, dass 15% aller Suchanfragen pro Tag neu sind, also vorher noch nie so eingegeben wurden. Das entspricht ca. 525 Mio. Suchanfragen pro Tag.
"Dein Analytics belügt dich" (Michael Janssen)
Zum Einstieg in die Session hat uns Michael bewusst gemacht, dass wir mit Analytics zwar Daten ohne Ende sammeln, letztendlich aber nur einen Bruchteil davon reporten und noch weniger davon für Entscheidungen mit einbeziehen.
Anschließend hat er uns die 9 häufigsten Fehler aufgezeigt, die im Analytics passieren, obwohl man sie mit einfach Tricks verhindern kann.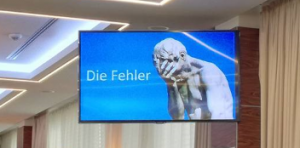 Die größten Fehler sind:
Zu glauben, Analytics funktioniert von alleine.
Sich über Absprungraten <20% zu freuen. Solche guten Ergebnisse kommen meist durch einen doppelt eingebauten Code zustande
Falsch gekürzte IP Adressen, die den geforderten Datenschutz nicht einhalten. Der häufigste Fehler dabei ist, dass die Code Erweiterung "ga('set', 'anonymizeIp', true)" unter dem Code, statt oben im Code ausgeschlossen wird. Die IP's werden somit zuerst komplett ausgelesen,was gegen die Richtlinien verstößt.
Paypal erzeugt Conversions. Dieser Fehler wird leicht umgangen, in dem man Paypal oder ähnliche Quellen als Verweisquelle im Analytics ausschließt.
Zu glauben, Analytics lügt, weil es mehr Sitzungen gemessen hat, als AdWords Klicks. Diese Abweichungen sind aber normalen und kommen dann zustande, wenn ein User z.B. 3x über Adwords kommt und beim 4. mal direkt auf die Seite. Auch das 4. mal wird dann noch Adwords zugeordnet. So hat man also 4 Adwords Sitzungen, die im Analytics auftauchen, aber nur einen Klick in AdWords. Klick ist nicht gleich Sitzung.
Zu denken nur die AdWords Conversions sind richtig → Conversionabweichungen von AdWords zu Analytics sind aufgrund verschiedener Messarten normal. Im Analytics wird nur der Last Click auf AdWords als AdWords Conversion gezählt und im AdWords Konto selbst, werden alle Klicks, die zu einer Conversion geführt haben, als Conversion gezählt, auch wenn Sie sich in der Customer Journey am Anfang oder mittig befunden haben.
Juhu, Bing Ads kosten nichts ;-)  –  Das ist natürlich Quatsch, man muss die Kosten von Bing erst in Analytics importieren (mit csv Dateien)
Die eigenen Besuche nicht auszuschließen. Gerade bei größeren Firmen oder Unternehmen die sich z.B. aus redaktionellen Gründen lange auf der eigenen Seite aufhalten, sollte man sich selbst ausschließen, da sonst die Verweildauer total verfälscht wird.
Analytics zeigt nicht den ganzen Einkauf. Er empfiehlt, das neue Enhanced E-Commece zu nutzen und Micro Conversions zu messen. Aus dem Enhanced E-Commerce kann man dann mit einem Klick nützliche Remarketing Listen erstellen
"Dynamische Anzeigen mit IF-Funtkion und Datenfeeds" (Martin Röttgerding)
Das neue Feature "IF-Funktionen" ist seit ca. einem Monat in Google AdWords verfügbar.
Akutell sind damit nur 2 konkrete Dinge möglich:
Das Erstellen einer rein mobilen Anzeigenversion
Das Ausspielen einer anderen Textanzeige bei bestimmten Zielgruppen, z.B. um Warenkorbabbrecher mit einem Gutscheincode in der Anzeige zurück zu locken.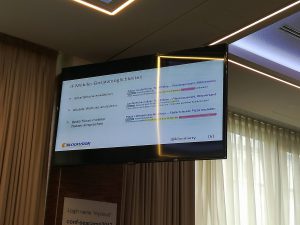 Nachteil dieser IF-Anzeigen ist, dass man trotzdem immer eine Backup Anzeige braucht.
Außerdem haben dyn. Aneigen keinen Vorrang gegenüber normalen Anzeigen, es greift die ganz normale Anzeigenrotation.
Im zweiten Teil wurden die Feedbasierten Anzeigenanpassungen erläutert, die allerdings schon eine ganze Weile in AdWords verfügbar sind. Gerne könnt ihr euch eine Anleitung dazu in unserem PPCBlog Artikel ansehen.
"Shopping Do's and Don'ts" (Christopher Rogl)
In diesem unterhaltsamen Vortrag wurden reale Support-Anfragen vorgestellt, die Christopher von seinen Kunden zum Thema Shopping erhalten hat.
So fiel ihm z.B. auf, dass Kunden häufig den Fehler machen, unterschiedlichen Produkten genau den gleichen Titel zu geben. Dies ist hinsichtlich der Auslieferung kontraproduktiv und sollte für jedes Produkt individuell angepasst werden.
Zudem empfiehlt er, mit den Feed Rules im Merchant Center zu arbeiten. Mit dessen Hilfe kann man auch nachträglich Custom Labels selbst vergeben.
SEA Managern von Shops, die mehrmals täglich Preisänderungen vornehmen, rät er mit dem html product tag shema.org zu arbeiten. Damit werden die Preise Der Seite gecrawlt und im Feed aktualisiert.
Adwords Bidding Strategien richtig einsetzen und optimieren (Steffen Jecke)
Steffen und seine Kollegin haben anhand vieler realer Kundenbeispiele verschiedene Biddingstrategien und deren Ergebnisse vorgestellt. Über alle Cases einzeln zu berichten, wäre zu umfangreich. Der Vortrag war aber auf jeden Fall sehr interessant und man konnte einige Anregungen für Biddingstrategien mitnehmen. Zudem waren wir überrascht, wie unterschiedlich die automatischen Gebotsstrategien von Google funktionieren, je nachdem ob man sie auf Kampagnen- oder Anzeigengruppenebene einsetzt.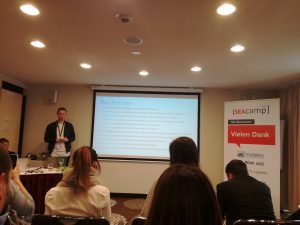 Squeeze that Suchanfragenbericht like a lemon = Beste SEA Limonade (Jennifer Bölitz)
Jennifer wollte in ihrer Session, wie der Titel bereits verrät, zeigen, wie man mit Suchanfragen umgehen kann und sollte. Es wurde auf viele Probleme eingegangen, auf die man beim Auswerten der Suchanfragen immer wieder stößt. Eine interessante Erkenntnis war auch, dass sich Suchanfragen von Mobilgeräten und Desktop oft stark unterscheiden und diese deshalb gelegentlich getrennt angesehen werden sollten.
 "Aufbäumen gegen Google Shopping: Wie man mit Feedkampagnen, Ad Customizern und Scripts den SEA Midtail automatisieren kann" (Judith Rogl)
Judith hat Ihre Session genutzt um einen Einblick in das von ihrer Agentur entwickelte Script zu geben, welches die Arbeit mit Google Shopping Kampagnen teilautomatisiert / erweitert. Hierbei hat sie sehr anschaulich den entsprechenden Prozess abgebildet und stellt zusätzlich Teile des Scripts kostenlos zur Verfügung.
 "Intelligente Kampagnenauswertung und -optimierung mit Google Analytics und Google Tagmanager (Kerstin Müllejans & Alexandra Zenzura-Studier)
Kerstin & Alex haben in einer sehr sympathischen Session ihre Vorgehensweisen dargestellt, wie sie mithilfe von Google Analytics und dem Google Tagmanager weitere KPIs zur Bewertung des AdWords Erfolgs definieren.Es wurde gezeigt, wie bspw. die Scroll-Tiefe, die Aufenthaltsdauer oder auch das Abspielen eines Videos durch Analytics-Events gemessen und an AdWords übergeben werden können. Dies ist besonders dann hilfreich, wenn Anzeigen geschaltet werden, die nicht direkt zu einem Kauf führen.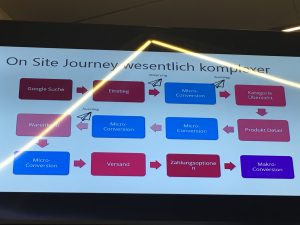 Fazit:
Wie immer war das SEA Camp aus unserer Sicht ein voller Erfolg. Nicht nur inhaltlich wurde darauf geachtet, dass die Veranstaltung einen Mehrwert für die Besucher bietet, auch der tolle persönliche Kontakt zu anderen Besuchern und den Veranstaltern hat positive Effekte für das eigene Netzwerk. Vielen Dank auch an die Sponsoren, die uns den Vorabend schon immer mit Freigetränken und einem kleinen Buffet versüßen und auch an die Sponsoren der Cocktails am Eventabend selbst.