About xpose360
The xpose360 GmbH is an international digital marketing agency from Augsburg, Germany. The team is specialized in the online marketing disciplines SEO (Search Engine Optimization), SEA (Search Engine Advertising), performance and affiliate marketing as well as conversion rate optimization and UI design (User Interface Design).
The xpose360 team consists of professionally trained and strong performing employees. With our well-founded knowledge, we serve both medium-sized businesses and internationally active groups. Our customers work in different branches, ranching from a traditional online shop to telecommunications companies. Successfully, we implement the needs of every business type.
Besides providing service products, xpose360 supports several online marketing specialist events as well as its own online marketing service tools.
International Online Marketing
Being an international agency, xpose360 combines strong-performing channels within the online marketing branch under one roof.
For each branch a team of proven experts awaits you. We support your projects comprehensively through proactivity, quality, innovation, and transparency.
We're supervising campaigns in these countries:
Germany, Austria, Switzerland, the Netherlands, Belgium, France, Great Britain, Denmark, Sweden, Finland, Poland, Russia, and the United States of America.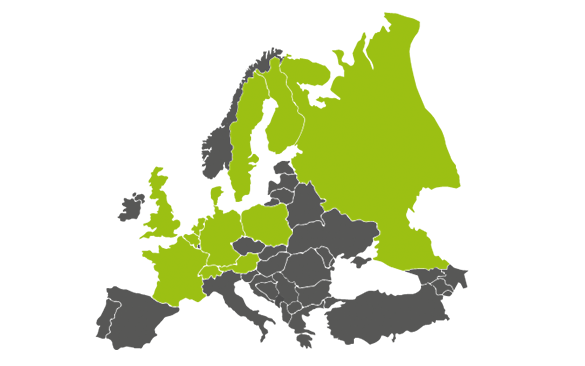 Our Corporate Philosophy
Our corporate philosophy reflects our fundamental values and characterizes our daily work routine. Thereby, the focus of our daily activities lays on our customers.

There are only a few segments that change as fast and develop as much as the online marketing branch. Be it Google updates, new publishing models in the performing field, or fast growing competitors. Because of this, it is very important to us that we always keep you, as our customer, informed about the freshest innovations and ideas. Only then, we can establish efficient and smart solutions. Our employees are visiting specialist events on a regular basis, read technical literature, and join webinars. Therefore, our team belongs to a highly-trained group of professional online marketers. In cooperation with your business we plan innovative campaigns to gain the crucial competitive advantage.

Whether in link building / content marketing for SEO campaigns or in quality supervision of affiliate partners, measurability and transparency are important factors concerning the search and performance branch. On a weekly basis, we report the developments of your campaigns and give you 100% insight in our employees' activities. Thus, you constantly know, which tasks have been performed. Our experts are always glad to clarify any vague process, so that you are always informed about the steps in our digital marketing agency.

The British social reformer, John Ruskin, once said:
"It's unwise to pay too much, but it's worse to pay too little. When you pay too much, you lose a little money – that's all. When you pay too little, you sometimes lose everything, because the thing you bought was incapable of doing the thing it was bought to do."
A long-term cooperation thrives from communicating with each other and learning each other's needs. We'd like to take the time to get to know you and your business and grow into your structures. Due to this reason, it is a crucial basis for us to concentrate on customers that share our world and values. Become familiar with a new style of marketing agency and generate extraordinary successes with us!

Our customers appreciate our proactive campaign support. Whether it is for SEO, SEA, or performance-orientated campaigns, you benefit from both proactive modification and optimization recommendations as well as the newest trends and findings in the branch. You also profit from our access to the newest Google, SEO, and SEA tools, even before they reach the market. After our hard work in creating a dense network, the xpose360 is regularly consulted as a beta tester for innovative developments. Thanks to this, we guarantee you a crucial lead in the competition.
Innovation & Technology
The online marketing branch is one of the most modern service sectors. We reflect these characteristics, innovation and advancement in our daily routine. To always stay up-to-date with these developments, xpose360's employees are participants and speakers at several specialist events. Furthermore, we write technical articles about the different online marketing branches, which are published on blogs, in magazines, and on portals.
The ability to take the broader view allows us to work with all kinds of soft- and hardware. From novelties on the mobile communications market over modern analysis and tracking software to the newest input and output devices, we retrieve future-oriented technologies. xpose360's customers always learn the newest trends to implement them goal-oriented and lucrative in their business.
Business History
The xpose360 GmbH is an international digital marketing agency focusing on search, performance, and conversion.
April 2009: Foundation of xpose414 UG by Alexander Geißenberger.
December 2013: Relocation of xpose414 UG in the new office at Silbermannpark 2.
February 2014: Partner entry of Markus Kellermann and expansion of our service portfolio with a new performance branch as well as changing the name from xpose414 UG to xpose360 GmbH.
The xpose360 consists of multiple experts in the fields of SEO, SEA, affiliate, editing, and UI design.
References
"Analyses and prioritization of necessary actions and the fast implementation show visible improvements in sales and conversion."
"xpose360 is a SEO agency of whose professional and excellent services we are completely convinced."
Certificates & Cooperations